Seperate Dog & Cat Boarding Facilities
Doggy Suites &Cat Condos
As staff of Hamilton Crossing Animal Hospital, we strive to provide a home away from home while you are away for a short or extended time period. We want your pet to be excited every time they visit. Your loved one will be provided with the up most care and services from our boarding staff under the guidance of doctors and technicians.
Our dog boarding area offers large indoor runs withraised bedsoff of the floor. All dogs are allowed outside three to fivetimes a day, either in our large outdoor runs, or our fenced-in play area for smaller dogs. In the event of harsh weather, dogs are allowed to run and play in our large indoor training area.
Our cat condos help to keep your cat's stay with us as stress-free as possible. Eachcondo hasplenty of room for food and water bowls, and second-level sitting area, and aseperate area for their litter box. Adjacent condoscan be connectedto double the space. Also, our condo areafaces outit's ownwindowalong the front of the building, and during the daycatscan be let out individually to sit alongthe bench in frontof the window.
In the event your pet is in need of an elective medicalor surgicalprocedure, we are always happy to provide those services while here for boarding.
Indoor and Outdoor Dog Boarding Facilities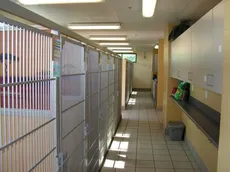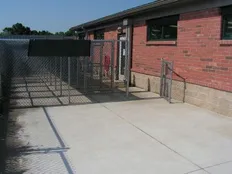 Cat condos in Our Boarding Facility